Living and Working on Sheppey
2009-14

Tea took part in Living and Working on Sheppey, a multi-stage project which explored changes in working lives in Sheppey over the last hundred years and into the future. The project team included Tea, academics from the Universities of Kent and Southampton, the community group Remember Bluetown at the Bluetown Heritage Centre and young people.
Back and Forth on Bluetown High Street
In phase one Tea made a video Back and Forth on Bluetown High Street which was a 'walk through' past, present and future. This fifteen minute pan was constructed from a photographic panorama with inserted images of buildings which used to be there, imagined one's which could be there and live incidents recorded on the street. Voices describe memories of the street.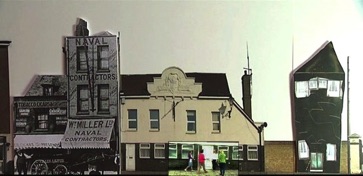 "I just wanted to tell you how much I enjoyed your beautiful film about Bluetown. It was fascinating to hear the residents describing the buildings - like the woman talking about the Grand Hotel that's no longer a hotel - and I loved the visual aspect of the film. It seemed to capture something about memory for me."
Sheerness Port
As an extension of the project Tea documented the current Sheerness Port by means of a circuit showing remains of old buildings accompanied by a running commentary by the Operations Manager and reminiscence recordings of former workers.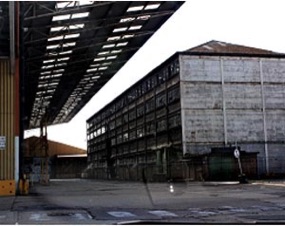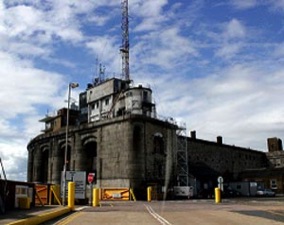 Living and Working on Sheppey was funded by the South Eastern Coastal Communities Programme (SECC) an innovative funding stream from HEFCE. The first strand engaged with people with different experiences of work (paid and unpaid, formal and informal) asking them to reflect on and record their working lives, and sought out people who had a connection to Bluetown and the former naval dockyard. Academics trained local people to undertake this reminiscence work directly. The second strand of the project engaged with younger people via teachers and community leaders, asking them to imagine their own working lives into the future. The third strand revisited, with members of the Bluetown Heritage Centre, archive material from Ray Pahl's study of Sheppey published in the 1908s held at the UK Data Archive at University of Essex. Imagine Sheppey was part of a larger Connected Communities research grant from AHRC/ESRC joint initiative on community engagement and mobilisation.
Imagine Sheppey: Fast Forward
In Imagine Sheppey: Fast Forward young people participated in a series of experimental workshops designed to explore what leisure, work and living spaces could be like in the future.
It emerged that it is difficult to really imagine the future but ideas were developed by exploring different materials in different environments, outside and in, through physical action, performance, making and installation. Consideration was given to the qualities and values which need to be nurtured and developed for the future: the ability to adapt to changing circumstances and to things going wrong, facing the unknown with an open and curious mind, supporting the individual within the collective and working together in order to forge something new.